Overview
The Art of Wine is an interactive experience around the world of wine. A journey that touches all your senses and that you can enjoy from the comfort of your own home. Through interactive video, Virtual Reality, and a course toolbox that includes a selection of great wine samples, wine scents and tastes, we bring all the magical experiences of wine straight to your living room.We've decided to create the world's best ever wine course for neophyte wine enthusiasts.
A course that is far from what the word "course" conveys: dry, academic theory.
Course comes from the latin cursus which means journey; and that's exactly what we want to offer:
An interactive, fun learning journey.
This journey combines knowledge and experiences, that together, make learning about wine so magical.
These moments you never forget:
– Visiting a famous Chateau in Bordeaux.
– Walking through the historical vineyards of Burgundy to see and understand what makes this region so special.
– Enjoying a guided wine tasting with the winemaker who produced the wine…
"Through the use of Virtual Reality, interactive video and our course toolbox we can bring these experiences to you."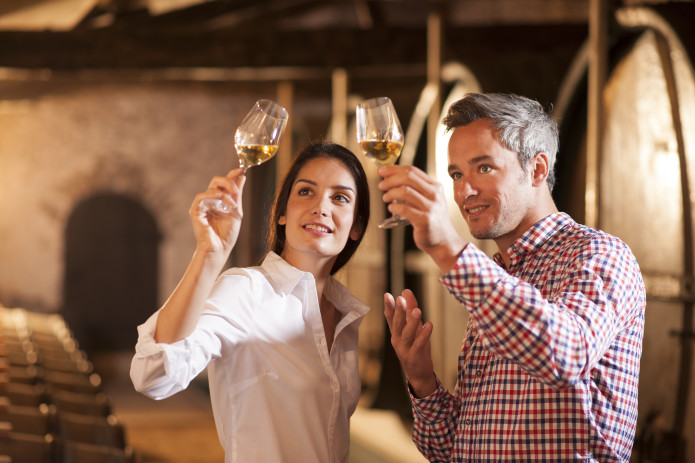 Best enjoyed with a VR headset (that you also get with the course toolbox)
WHAT'S IN THE COURSE?
The Art of Wine course combines an online part and a course toolbox.
The online part consists of multiple interactive videos, including virtual reality to fully experience the magic of the voyage, interactive games, exercises and quizzes.
Alongside the interactive course, course toolbox packed with a whole bunch of fun educational tools as well as tasting samples.
THE ONLINE PART
The course is a rich blend (no wine pun intended) of videos where we share with you fascinating wine knowledge, stories and anecdotes.
But it's not just listening there's also lots for you to get stuck in and "do".
The course is broken down into 3 main parts.
These parts are made up of multiple videos, each around 10 minutes in length.
Part 1: The Origins
In this part, we look at what the heritage of the 8,000-year history of wine is.
We'll then go to the vineyards to see how great grapes are produced, and how the wine growing is going to influence your wine.
Of course, you'll discover the differences between the main grape varieties, but also the climate, the heritage of history and other important factors.
From there we'll head to the winery to look at winemaking and how the choices in the cellar will affect what you have in the glass.
Part 2: Enjoying wine
In part 2, we'll focus on how you can enjoy wine to its full.
We'll obviously be looking at developing your tasting skills, with a focus on being able to perceive all the small details that make great wine special.
We'll also be working on developing your sense of taste and your sense of smell through various, fun exercises.
But that's not all… the way you serve wine, what you serve it in, how you prepare it and how the wine is stored all have an enormous impact on how your wine will express itself.
Part 3: Choosing your wine
Which wine? What should I get?
That's one of the most fascinating subjects.
In this part, we'll start by diving in to the art of food and wine pairing.
We'll then look at choosing wine whether in a store or a restaurant: different approaches and ways to choose your wine with confidence.
We'll then look at all the other things you should get to enjoy wine.
Interactive Vineyard and Winery Visits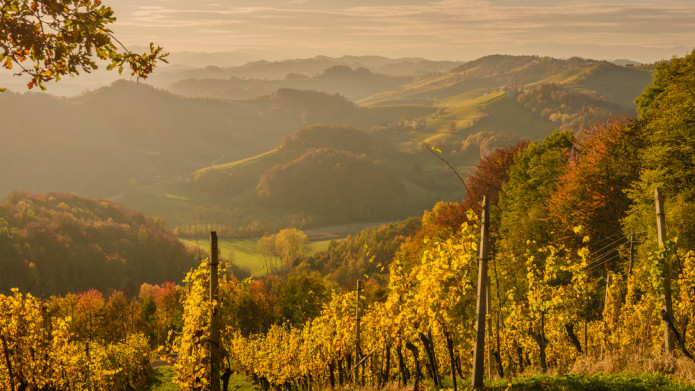 This is where the magic all begins.
Being able to walk through vineyards will help you get an altogether other understanding of the wine.
Seeing where the vineyards are situated, how they are planted, with someone explaining why that is, will help be more thank just an eye opener.
Discover Wineries
A winery's winemaking cellar is a bit like the kitchen of a fine restaurant.
We want to show you the journey of the grape from the moment it is harvested all the way to when it leaves the winery in a bottle.
What happens during the fermentation process?
What does the oak ageing process look like?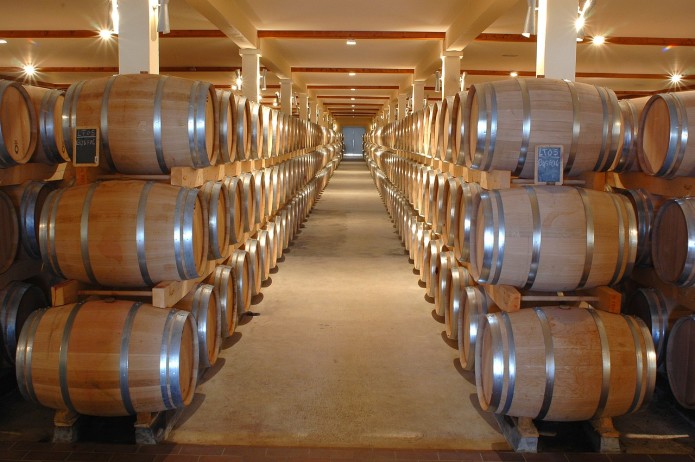 With our interactive visits, you will be able to walk around the winery and see this crucial part of a wine's life.

Activities and exercises
Developing your sense of smell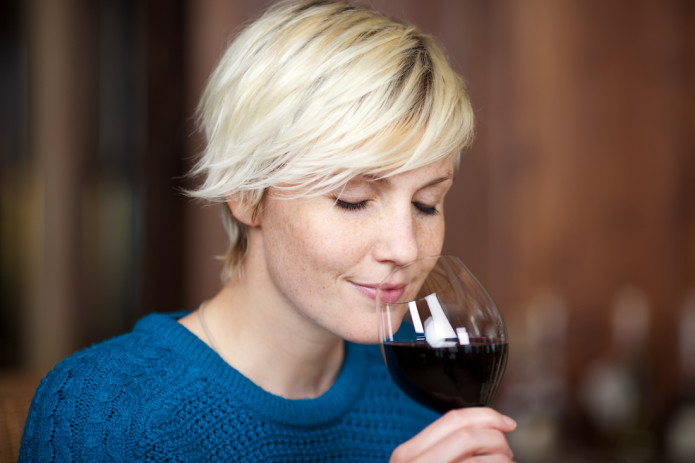 Smell is probably the most important sense needed in the appreciation and enjoyment of wine.
We're creating a whole bunch of fun interactive exercises around the wine scents you get in the course toolbox.
These will help you improve your sense of smell, get a much better appreciation of wines you are tasting as well as see the differences between different grape varieties, and wines.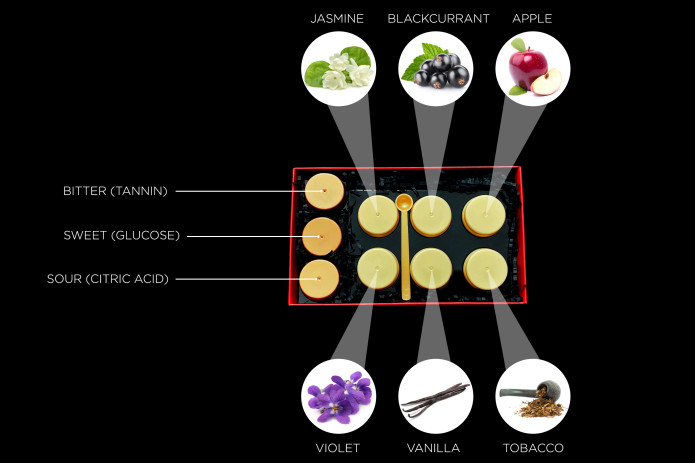 TRAINING YOUR PALATE
Obviously, your sense of taste is important.
We've sending you the primary tastes of wine to help you improve your sense of taste.
In the course toolbox, you get natural powdered forms of tannin, acidity and sweetness.
These come from wine and are isolated to help you get a precise understanding of what they are like in isolation as well as mixed with other tastes but without the flavours that exist in wine.
TASTING EXERCISES
The course toolbox also includes a selection of a 6 wine samples to help you understand the influences, of grape variety, climate, ageing, blend, and more.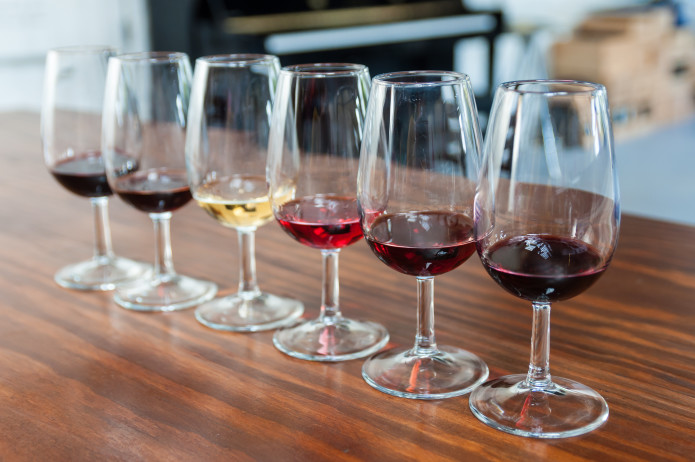 Through the guided tastings, some of which are with the winemakers who produced the wine, you'll learn to see all the small details and secrets hidden in a wine.
As Dali once said:
"Learn the art of tasting and you no longer drink wine but you get to taste its secrets"
FOOD AND WINE PAIRING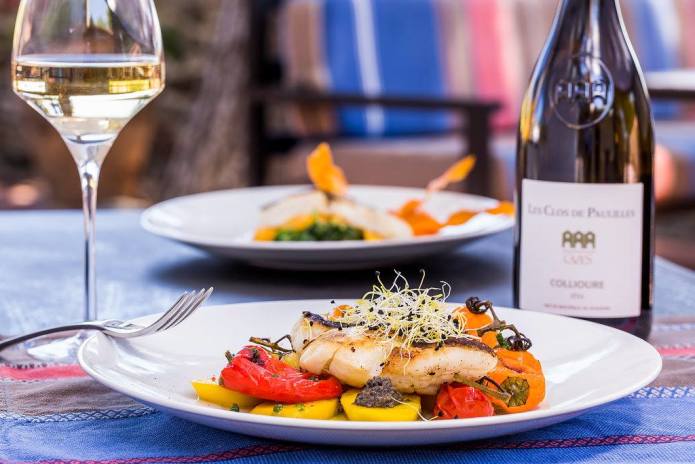 Food and wine not only complement each other… paired them well and you will improve the taste experience of both.
You'll get exercises to learn the art of food and wine pairing.
Ordering wine in a restaurant won't ever be the same again.
THE ART OF WINE TOOLBOX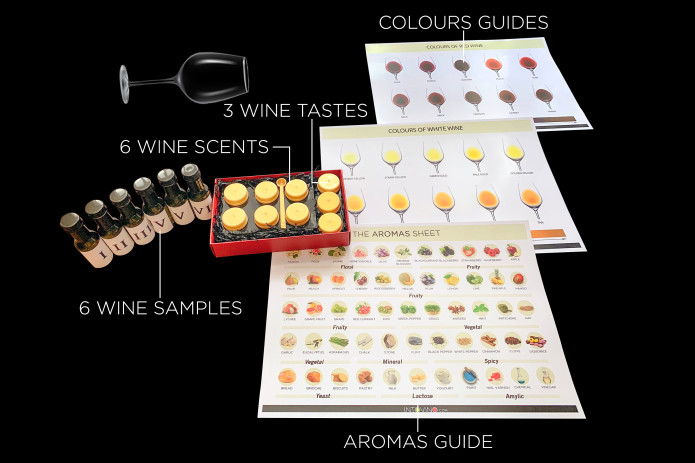 Alongside the online part, the course toolbox is packed with everything you need to boost your understanding and appreciation of wine.
TASTING SAMPLES
Wine tasting is crucial help you understand wine, which is why we include 6 wine samples in our course toolbox.
These come in 2cl single taster sized samples which is the typical serving you get in wineries.
You'll be tasting each wine in guided tasting, (some of which will be with the winemaker who produced the wine) to help you truly appreciate every tiny detail.
What's the difference between a young wine and an old vintage?
What do oak barrels bring to a wine?
What are the differences between New World and Old World wines?
What are the differences between grape varieties?
These are some of the things you'll be learning during these tastings.
AROMAS OF WINE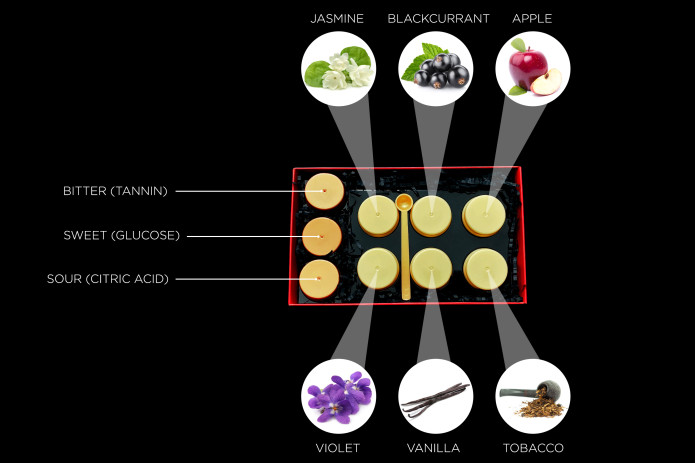 Your sense of smell is the most important sense used in wine appreciation and tasting.
We've included 6 key aroma phials in this box.
These are scents you get to keep and you can go back to regularly.
This kind of training is often used by the world's best sommeliers, we've created a bunch of enjoyable exercises around them for you to have fun alone or with friends.
TASTES OF WINES
This often comes as a surprise but there are only 5 tastes our palates can detect:
Salty, sweet, bitter, sour and umami.
Wines only have 3 primary tastes: sweetness, bitterness and sourness.
To understand taste precisely, we're including dehydrated tastes of wines.
All you need to do is add them to a glass of water and you'll be able to truly understand each taste, without having flavours distracting your learning.
GOOGLE VR HEADSET
To ensure you enjoy each one of our 360 degree and 3D experiences to their full, we're also adding a Google VR headset absolutely free of charge.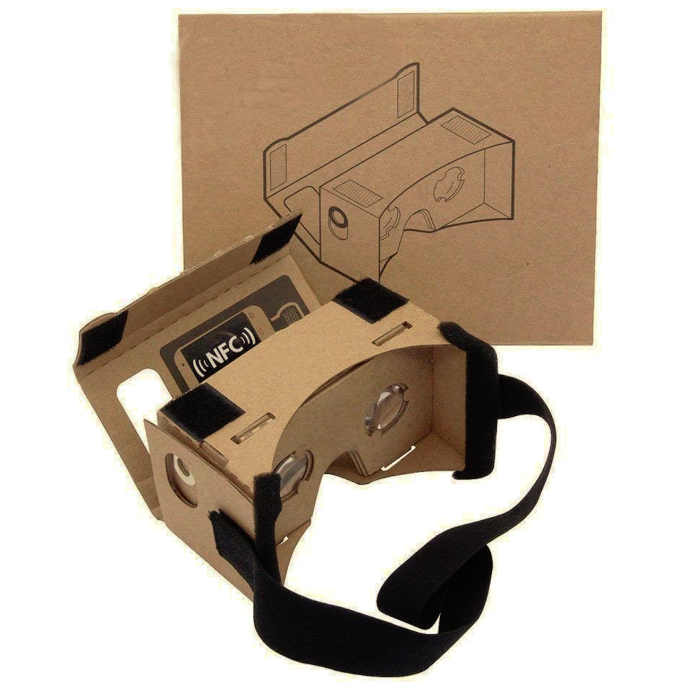 AROMAS POSTER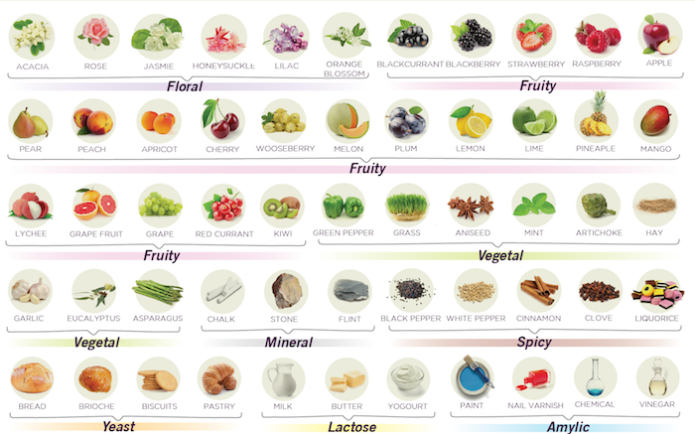 There are numerous aromas that can be found in wine: our poster of the aromas and flavours of wine will help you when tasting wine.
COLOURS POSTERS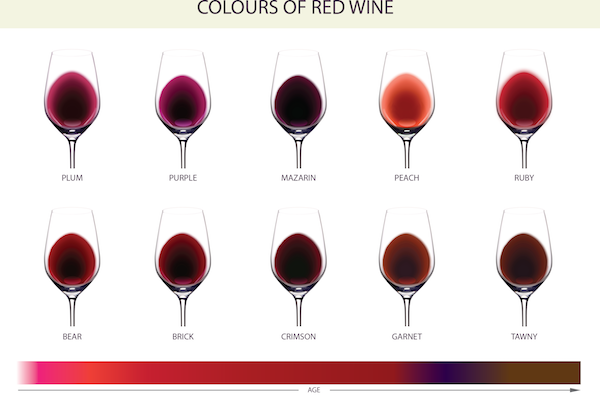 There may only be 3 colours of wine: red, rosé and white. But there are a near incalculable number of different tints and hues for each colour.
We've regrouped many of them into beautiful posters.
AN ONLINE COMMUNITY
An important part of wine is the social aspect, the sharing.
When you join the Art of Wine Course you will also be part of a closed group with other like minded wine enthusiasts.
You can ask us your questions or ask us for advice, but you can also ask the community, or help others.
Each month, we'll also be organising live tasting events and insights into great wine regions.
OUR STORY
The Art of Wine course is the idea of Greg Frileux and Cyrus Tchahardehi.
Cyrus has been in the world of wine since the mid-nineties, he's worked for many of the world's finest estates in France, Italy, the United States, South Africa, Uruguay and Australia.
A few years ago, with Gregoire, they co-founded Vinoa, a wine tasting subscription, which they built from the ground up and sold to a trade competitor.
It was then that they launched Intovino, a website created to help people learn about wine.
After creating many videos to help wine lovers unlock the secrets of wine, they decided they wanted to create the world's best wine course.
After many months of thinking, around many a glass of wine, what this wine course would look like they decided to create The Art of Wine: a course that brings together all the magical moments of learning about wine.
Risks and Challenges
The Art of Wine course has already been written and storyboarded.
We've already finalised deals with key partners to provide us with samples of fine wines, wine aromas and tastes and found partnerships for the delivery of the course toolbox to many regions of the world (hopefully many more to come).
However, we hope this isn't just a one off, the beginning of many other fun, interactive wine courses and activities.
We hope this campaign will show us there is a large community of enthusiasts truly passionate about discovering the world of wine and that we are not only creating the best wine course out there but hopefully a business that regroups many other wine lovers.